Some time ago, I had the brainstorm of making a T-shirt featuring the Puma Man of MST3K fame. I'm proud to say it was received with great enthusiasm! And zero sales. Big surprise. In fact, the only feedback was when a friend posted a link on A Special Thing and got back, "Neat shirt, too bad it's on CafePress." Yikes, I guess my one sale's dog got run over by Baron Von Cafepress when he was a kid. But looking back at the shirts, I did have one legitimate design gripe:
I needed to make the logo bigger.
Enter Printfection. Though it has the look and feel of a beta of Windows Explorer, Printfection handles the nuts and bolts of creating merchandise better than CafePress: lower prices, multiple pricing levels for items, better image management tools, the ability to sell multiple designs for each clothing item. And yes, you can make the logo bigger (up to 4.67″ high)! All Printfection needs to do is fix their clunky and occasionally unclear interface.
But the most important question is: how do the shirts look? I took a chance on Printfection's $2 t-shirt offer and printed up a quick Puma Man shirt for myself. Printfection doesn't seem to handle solid, non-web-safe colors especially well,

which resulted in a shade of yellow something like the one here. But switching to the similar #FFCC00 for the color of the text seemed to fix that problem.
The PUMA MAN tee is perfect for wearing to the gym, as if to say to the world, "I'm out of shape and a huge nerd!"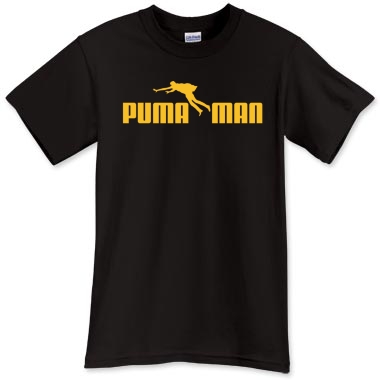 And there's a shirt depicting the cold-war kid's drawing Dan Danger, available in special commie red: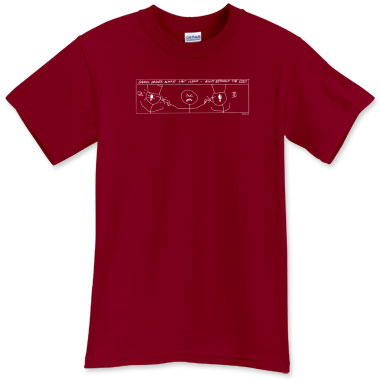 Bigger logos, smaller prices. These as well as womens' styles and other apparel are available all at a reduced price at my Printfection store!