An article is making its way up Reddit about how a Nigerian 5-year old is repairing OLPCs. Awesome. One more bit of malfunctioning technology for the third world to deal with, since it's got that whole food/shelter/war/inflation/AIDS thing worked out already.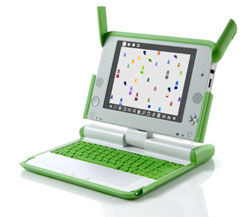 The spin is that this enterprising kindergartner is learning a trade fixing broken laptops, and by introducing broken products into the marketplace, OLPC is doing its part to magnanimously create labor for more children. It's a business model Jean-Baptiste Zorg would be proud of.
Nevermind that some parts can be replaced for $1 when most kids can live on 80¢ a day. Nevermind that this opportunity came about because of broken hardware, or that this child's time could be better spent elsewhere. Like at a school. Breaking things isn't actually good for an economy. It's all covered in the parable of the broken window.