What started innocently as flame bait on thepete.com managed to turn into a full-length tirade, in which I reply to my friend the eponymous Pete, about how the $400 OLPC laptop is just about the most extravagant, useless toy self-satisfied geeks have bestowed upon the third world. The idea behind the laptop is that it is a tool to better educate the children of developing nations so they can become better farmers, diplomats, 419 scammers, and camwhores, but it doesn't live up to the hype.
And I hope they don't mean for the laptop to be a literal tool for farming, because things like shovels, seed, and a plough will do a lot more to actually feed a family than a link to subsistence farming on WikiHow.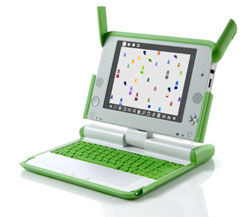 This laptop is a luxury item, and to developing nations, it's a bowling ball present. When the people buying them are singing its praises about how one can chat, surf the web and blog with it, I'm not convinced of the laptop's efficacy as an educational tool. The thing's got a D-pad and buttons. This isn't an educational tool, it's a Nintendo DS! A school I would believe.
Nevermind that the laptop also needs an internet connection to actually find any of this essential information online, and trained people to maintain that network infrastructure. I don't know if countries that lost a third of their population to civil war will find the time to spec out an IT department.
But most of all, this sounds like the 21st century equivalent of the wide-eyed optimism of the 1950s that the television would become some sort of learning box panacea. And we all know how that turned out (Baby Einstein, anyone?).
I think the OLPC is a neat little laptop, if a little underpowered and with a smaller HD than my phone, and owning one might be fun. But the idea that this is what the 3rd world really needs, over things like food, medicine, sustainable farming methods and free public education? Give me a break. This is an over-extravagant way of educating one child. A school would be better, and is less likely to get stolen or sold for something useful.
Oh, and we don't have one laptop per child in America… and we're expecting this to catch on in Somalia?