At least that was the news over at What Would Tyler Durden Do?.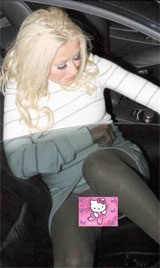 And you know what? This just makes my latest Emergency 411: Finding Parking that much more topical. Sure, it's ostensibly about parking or something, but the eagle-eyed viewer may notice a reference to a certain starlet with a pathological need to let her south mouth breathe. At the time it was a joke about looking up Britney Spears' skirt, or Lindsey Lohan's or some chick named Paris Hilton (hadn't heard of her), but now we can thankfully throw Christina into the mix.
Ah, thank heaven for easy celebri-vag gags.
And speaking of how classy my integrity is, when giving an interview for last week's Mobifest Toronto, I got to talk about girls who don't wear panties when I was interviewed for Canadian TV's Much More Music channel. Here's a pic of me going for the high road:

You can see all the way up her skirt, Matt!
I would've included a link to the video, but for the life of me I can't find it. I'll just have to trust someone is watching me talk about panties somewhere in the great white north.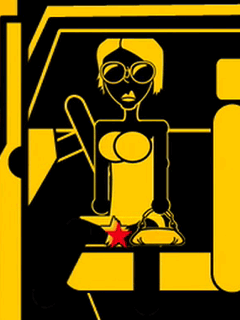 Before anyone realized you shouldn't put me in front of a camera, I was one of the Mobifest filmmakers interviewed by Bite TV (again, you're going to have to take my word for it).
In my own charmingly stilted, sweating way, I filled them in on how annoying finding parking is in LA — because no one's talked about that before — until I remembered I had a much more interesting story about when I got beaned in the head by karma.
All this and more on a Betacam tape that's being put through a bulk eraser somewhere in Toronto's Entertainment District right now.
Finally, before you think this is just a scattershot way to gather more hits with free cash, C1AL1$ and debt relief, nude celebs, let me bring it all back and share with you my first encounter with the beguiling Ms. Aguilera, on a video salute to the most Inconsequential Women of the 20th Century.
It's important to note that people hate this video. At least it went over better than the one about Mother Teresa.