I'm feeling particularly embiggened this week.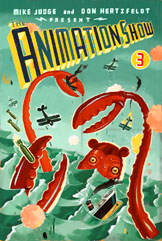 (In addition to my winnings in Vegas this weekend) I learned this Sunday that one of my Emergency 411 cartoons was selected to be in The Animation Show! So of course I'll be there to see my tiny, tiny video on the big, big screen. I had already caught the show last year at the Nuart theater in Santa Monica and can't wait to see what's been added since, as well as see who the other mobifest winners are. You can still see all the videos submissions over at mobifest.net where my Skydiving video — much to my amazement — graces the front page.
If you'd like to go, The Animation Show is this Tuesday at Laemmle's Music Hall 3, 9036 Wilshire Blvd., Tuesday, April 3, 2007 at 7:30 PM.
On top of all this, my site got a mention on the Animation Show journal, in particular a cartoon Nick and I did on that jaded green giant, the Sarcastic Hulk. Check out the awesome quote:
…you've got to spend some time over at his site timtoon.com. In particular his "Sarcastic Hulk" is one of the funnier tv funhouse style revamps i've seen in a long time
All it takes is a little positive feedback to get me movin' again. Now I can't wait to start on another SH clip. One that has the Sarcastic Hulk, y'know, actually in it.