Much has been made of Apple's lack of support for Flash on the iPhone, with Apple passing on it in favor of open standards, using AJAX, canvas and the HTML 5 spec to achieve the same slick interfaces that have until now only been seen within Adobe's Flash player.
Apple has famously proclaimed that the web on the iPhone isn't the mobile internet; not the "watered down internet" — and yet, it's not quite "the" internet either.
On Apple's iTunes page, you get a very cool interactive slider listing all of the company's hot iTunes-related products, all presented using CSS and Ajax. All done in the browser, all done using open technology. Yeah, holy shit is right.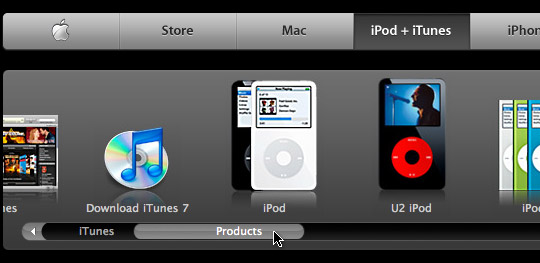 Now take a look at the same page on the iPhone. It's similar, but it ain't the same.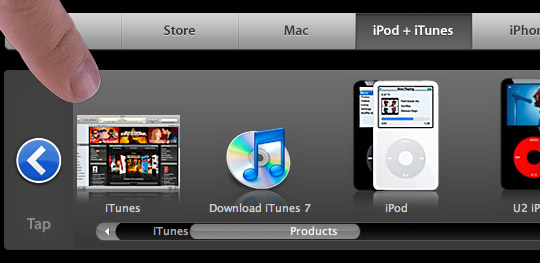 Since Javascript can detect which browser you're using, Apple seems to be slightly modifying its web interface to account for the iPhone. But how many web designers are going to get caught up in Apple's iPhone-led redesign of the web, only to find out that their spiffy new interfaces won't work on the very device they're redesigning their websites around?

An internet built on open standards, pioneered by Apple would be pretty spectacular, but Apple is going to have to work out these 'gotchas' first. Otherwise, I feel this open initiative will go the way of many of Apple's previous efforts: Cocoa (the other one, but that's a whole other article), OpenDoc, interactive QuickTime movies, the Pippin game console and other promising technology that Apple left to rot on the vine.
I for one will support Apple's initiative because I like open standards and I like the idea that when publishing my videos I can "encode once, run anywhere" — on the internet, iTunes, the iPod or an iPhone… pretty much anything starting with a lower-case i.
And in a perfect world, I wouldn't be the only one. But I don't see Jobs's idea of the standards-based open internet catching on. For better or worse, the web is a heterogeneous place, so any kind of consistency is rare indeed. And for all his shrewd maneuvering, Jobs still has a very pie-in-the-sky idea about human nature. Would you expect anything else from an aging hippie? He should already be able to tell that consumers don't always choose the best products, and quite understandably, people will make choices that immediately benefit themselves.
It made sense for YouTube to re-convert all their videos into the open H.264 codec to get an exclusive spot on Apple's hottest new product, but would every Tom, Dick and Harry go out of their way to re-encode their entire collection of failed motorcycle stunts, backyard wresting clips and lip-syncing videos, just in support of open standards? My guess is no.
It would be great if we lived in a world where everyone drove a Prius, roommates would wash their dishes, and everything on the internet was open and free for anybody with a good idea, but as a poet once said, "We live in a world where good men are murdered and mediocre hacks thrive."
It'll take some very real incentives for Apple to lure web developers away from closed, propriety systems and into an open and free internet, not just because it's the right thing to do. If I were to offer my two cents, it would be to make the tools for realizing your vision more available, and make them easier to use. Make it easy for people using your software to get results. (I think you used to have an OS that did this back in the mid-'80s.)
---
Finally, for those of you at home who want to see the web the way the iPhone does, just modify your browser's user-agent to this string:
Mozilla/5.0 (iPhone; U; CPU like Mac OS X; en) AppleWebKit/420+ (KHTML, like Gecko) Version/3.0 Mobile/1A543a Safari/419.3
…just resist the temptation to touch the screen.