Cracked recently ran a scathing litany of 5 Terrible Life Lessons Hollywood Loves to Teach You. It is just painful to read because I can make no solid argument against what Cracked is saying; in particular what they have to say about the irony of casting corporations as villains:
Each and every one of these films are made by a corporation every bit as huge and unfeeling as the ones being portrayed in the movies (and the Walt Disney corporation could crush all of them like a grape). There's almost something condescending about the way enormous companies are willing to cast themselves as the villains, knowing we'll give them more of our money to watch it.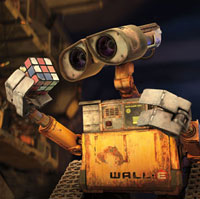 Speaking of Disney, in the movie WALL-E the earth has been ruined by the excesses of humanity, fueled by a greedy, uncaring, ubiquitous corporation with the cute name of Buy 'N Large. But here is the thing I don't get: if Buy 'N Large is the corporation that made everything, then they're the same ones that created WALL-E, the robot who saved humanity, and they also made EVA, a robot tasked with finding plant life, a sign welcoming people back to earth — www.buynlarge.com even says they make robots. So wouldn't this mean the big, bad corporation that caused this mess is also the one with a plan to solve it? Surely someone within Buy 'N Large was looking out for people after all.
Sadly, I don't think this was the message the movie intended.