I try to avoid political pontificating since it's the easiest way to start intractable disagreements with only a sliver of knowledge, but this insubstantial article (in Time magazine of all places!) irks me to no end. It's about Obama getting mad about, or distancing himself from, this Reverend Wright guy who — if it merits an article on the front page of Time — must have said something pretty damning. But I read and re-read the article and couldn't find the damnable quote. Was this it?
"Politicians say what they say and do what they do based on electability, based on sound bites, based on polls"
Sure it's cynical, but also +1 Insightful. This is the only Reverend Wright quote I could find. That's it? This merits controversy?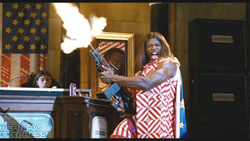 The real Barack Obama?
The thrust of the article from then on is about some faceless, nameless advisors and strategists saying Obama needs to get mad to show he can make it as president, and to be able to fend off Republican attacks. If we need a candidate who can get mad, just elect Bruce Banner in '08. What about leading the country, fixing the economy — isn't that important, too? This isn't Mad Max, we need a sensible, educated man as president, not an American Gladiator. And if a remark as flaccid as Reverend Wright's is enough to stir up this much trouble, are politicians really fending off particularly vicious attacks? This is about a difference of opinion. This is kid glove stuff. I am appalled that this passes for news. The worst of the article comes at the end, when someone Time didn't bother to get the name of criticizes Obama for not trash-talking enough, "Sometimes, he sounds like he is writing a Ph.D."
Would that really be such a bad thing?